Tarmac Services Limited are equipped with the latest plant machinery.
We can cater for jobs of all sizes from small footpaths through to highways. 
Vogele 1302-2
A compact Asphalt paver finisher with extending screed, this machine is used to lay asphalt on roads and car parks etc. It lays the asphalt flat and provides minor compaction before it is finally compacted by a roller.
Asphalt paver finisher

Maximum pave width 4.5m

Laydown rate up to 250tonnes/h

Transport width just 1.85m

Turning radius (outside) 4.8m

Powerful DEUTZ engine rated at 74.9kW

Combines with AB 340 Extending Screed in TV Version (with tamper and vibrators)

Basic width 1.85m

Electric screed heating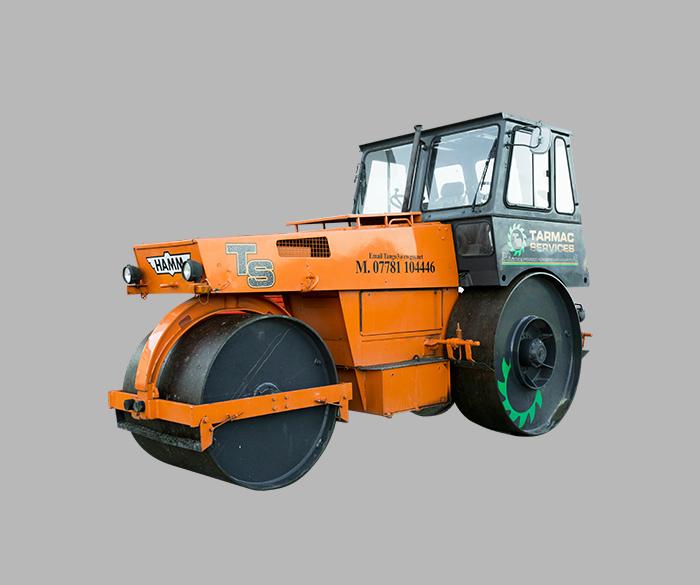 HAMM HW 90
Deadweight Roller provides smooth and controllable compaction of asphalt. This machine follows behind the paving machine to compact the asphalt and accurately cut off the final joint on a newly laid mat. This machine has a pressured sprinkler system and large water tank to extend operating time.
Deadweight roller

Two ergonomic driver's seats

Hydrostatic traction drive

2 weight classes: 10­12t, able to handle 12­14t ideal load distribution between front and rear drums

Pressured sprinkler system

Larger water tank with 400L ­ extensive operating time

4­-cylinder turbo motor

13000kg maximum weight
HAMM HD 12
Articulated tandem roller with 2 vibratory drums. This machine is generally used on smaller jobs, it can follow behind the paving machine to compact the new asphalt mat.
Double drum vibratory roller
3-point swivel joint for optimum driving comfort
Ergonomic driver platform
Modern instrument panel
Optimum front view due to concaving front end
Central suspension point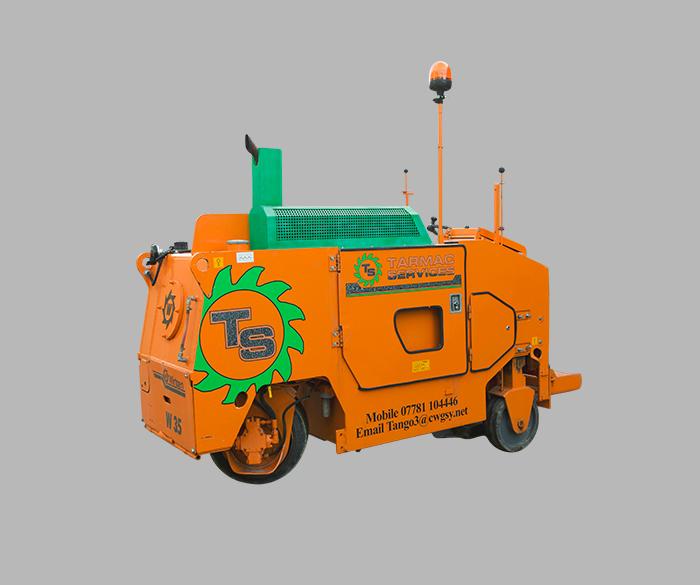 Wirtgen W350
Asphalt planing machine is used to remove part of the surface of an existing paved area. This machine is able to cut a maximum width of 350mm and up to a depth of 100mm.
Cold Planer

Operating weight 4,4t

Engine power 37kW

Cutting width 350mm

Cutting depth 100mm Tarmac Services Limited was founded in 2015 by Simon Van Der Tang. After 35 years working for Ronez Guernsey Limited and following a strategic change of management within the Aggregate Industries Group, Simon saw the opportunity to start his own company
Contact us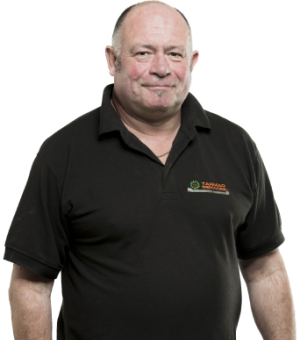 What Our Customers Are Saying
Many thanks for this and Simon & his team for completing a first class job quickly, cleanly and efficiently. I will sort payment in due course.

Marco
We are very pleased with the work completed and would most certainly recommend you to others.

Barbara
Thank you and your team for all your hard work and a fabulous job.  We are already seeing more exciting racing and far more overtaking moves.

Kart Club
Thank you for a job well done.

Maurice
Thank you to Simon and his crew for a job well done, my brother and I think the 'spade finish' to the two concrete strips is outstanding.

John
I would like to pass on my thanks to Simon and the boys for an excellent job, they worked extremely hard and were very professional.

Jayne
A huge thank you to the amazing team at Tarmac Services Ltd.  On time, on budget and a great bunch to work with.  Couldnt have asked for better service!

Matt